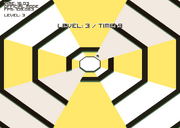 Commando
is the first of the two 
Levels
 in the
Vee's Endurance
pack of
Open Hexagon
. Its
music
is
Commando Steve
by
Bossfight
, at the 61 and 88-second marks, like
Labyrinth
, its sister Level. In
V2.0
, Commando was moved to the
Cube
pack
.
Commando starts with four sides and spawns two pairs of brackets a second for five seconds, followed by a level up. With each level up, the timer increases by five seconds and the number of sides increases by two. There is no spinning, regular but shallow pulsating, and relatively shallow 3D depth which fades in and out every few seconds.
Since being introduced in V1.4, Commando has solely undergone cosmetic changes, meaning it has changed little over the game's history.
In V2.0, Commando does not permit the Swap function at all due to its symmetric nature. Thus, it has the lowest high Difficulty modifier of any official Level (bar Baby Steps, which has no modifiers at all), at 1.5X.
Commando shares all music data with Labyrinth, labelled internally as commandoSteve.